Instant Website Analysis
Our SEO Checker provides an online website SEO analysis that you can download as a PDF. Our SEO Checker will provide feedback on the following SEO criteria and will compare your website's SEO ranking against another website of your choosing.
Page Speed
URL Structure
Title Tag
Description Tag
Image Analysis
Keyword Density
Heading Tags
Website Copy Analysis
Social Analysis
Mobile Analysis
Page Link Analysis (Using MOZ Score)
Root Domain Link Analysis
Domain Analysis
Start Now
Free SEO Audit Tool
See how optimized a specific web page, landing page, or blog post is for an exact keyword or phrase
---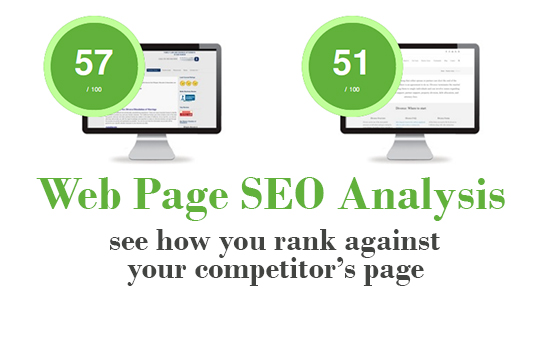 Why do you need this?
Our online and instant SEO Checker tool provides you with an extensive report on how well your website page is doing in the top 13 major areas in comparison to your main competitor's website page.
This report will save you countless hours of research and headache. Getting an instant report will show you exactly what you need to improve your website page ranking and ultimately get more business online.
---
Can our site be ranked #1
It's possible to rank your site on the first page of Google, Yahoo! or Bing for a limited number of keyword phrases. It is also possible to reach the number one rank for a keyword phrase. There are, however, no guarantees! SEO as a methodology should be an organic journey that provides value to your readers.
Can we do SEO ourselves
Yes!  Our Free SEO Checker Tool is only here to help. Please know that search engines are constantly optimizing how they rank a website so you have to stay on top!  Here's a link to an amazing resource by Google, called the Google Search Engine Optimization Starter Guide.  If however, you want us to help, contact us
Maintain your SEO Position
Maintaining your SEO position is difficult as your site will constantly battle other companies for ranked position! Make sure you are using proper SEO methods like these provided by Google. Do not use shortcuts, as your site may be blacklisted. Our Free SEO Audit will get you started in the right direction!
---
General Instructions
Get your Free SEO Checker done on any of your website pages. Each webpage analysis will only take a few minutes. Fix the errors we find on your specific webpage, using our easy checklist. Rerun the report to see if the changes we recommended improves your new score. Rinse and repeat.
You can also compare your website grade against your competition by including their URLs. Learn from their techniques and outrank them. The SEO Checker provides you with a Free Report that includes a page grade and checklist of items that need to be fixed on your web page with explanations to help you understand why each element is important.
Like a SEO consultant, our Free SEO checker gathers information about your website.
Unlike an SEO consultant, it analyzes dozens of factors in minutes. This information comes from a variety of sources, including search engines, highly regarded SEO tools, and your very own website.