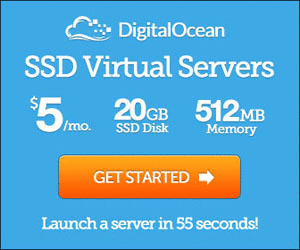 Webivia is an affiliate to some of the most reliable dedicated wordpress hosting companies for our client's website hosting plans. This does mean that we do get a fee for signups that originates from this page. The reliability and robustness of these web hosting solution based on our experience does makes it an ideal hosting partner to Webivia and our clients.
We offer wordpress hosting services in order to complete out our overall web services offering. If, however you feel more comfortable with your current web hosting vendor, please continue to use their services. All we ask is to have us set up as a technical manager to the domain, and web hosting services for the duration of our project.
Digital Ocean created the fastest and most convenient cloud technology to help clients easily and more efficiently manage their infrastructure so they can get back to coding. They provide all of their users with high-performance SSD Hard Drives, a flexible API, and the ability to select the nearest data center location.
Site5's shared web hosting philosophy is based on guaranteed performance. While other hosts may try to cram as many accounts as possible on shared servers, Site5 have used their years of experience and the technical analysis performed by their technical gurus to determine exactly how many accounts they should be putting on any given server. In addition, they are continually upgrading their hardware platforms to be among the best in the industry.
Bluehost was founded in 2003 with one goal: to make a better hosting company. Built on open source technology, we've since grown to become one of the world's largest providers of cloud-based online solutions. Operating beneath the Wasatch Mountains in Utah, over 700 of us are pushing boundaries to deliver the promise of the internet to more people than ever.
WPEngine is a Managed WordPress hosting environment. Their hassle-free hosting offers fast and robust servers that can handle anything. Your website is practically hacker proof, and their mind-blowing customer service makes you feel like king. They offer automatic security updates, daily backups, one-click restore points, automatic caching, top-tier security, one-click staging area, and more.
If you would like to start your web hosting service, please select one of these below:
For clients that require a fully managed, secure and dedicated web hosting service for their WordPress site, we have WP Engine: